Thank you for visiting my webpage :)
I'm pleased to have the opportunity to write this blog.
Today, I'm going to talk to you about the "Benefits of being a Minimalist".
Firstly, let me tell you a bit about myself.
My name is Tenyo and I am Japanese.
I am studying applied chemistry and life science at my college.
My hobby is to do cycling, workout, skateboarding, and reading books.
And also, I am enjoying my own lifestyle.
This is the picture of my room.
I am trying to live with necessary things.
In general, this lifestyle is known as a "minimalist living lifestyle".
My talk is divided into 3 parts.
I'll start with talking about a Minimalism.
Then, I will talk about the benefits of being a minimalist.
Finally, I will show you the summary and conclusion.
Let's start by looking at "about a minimalism".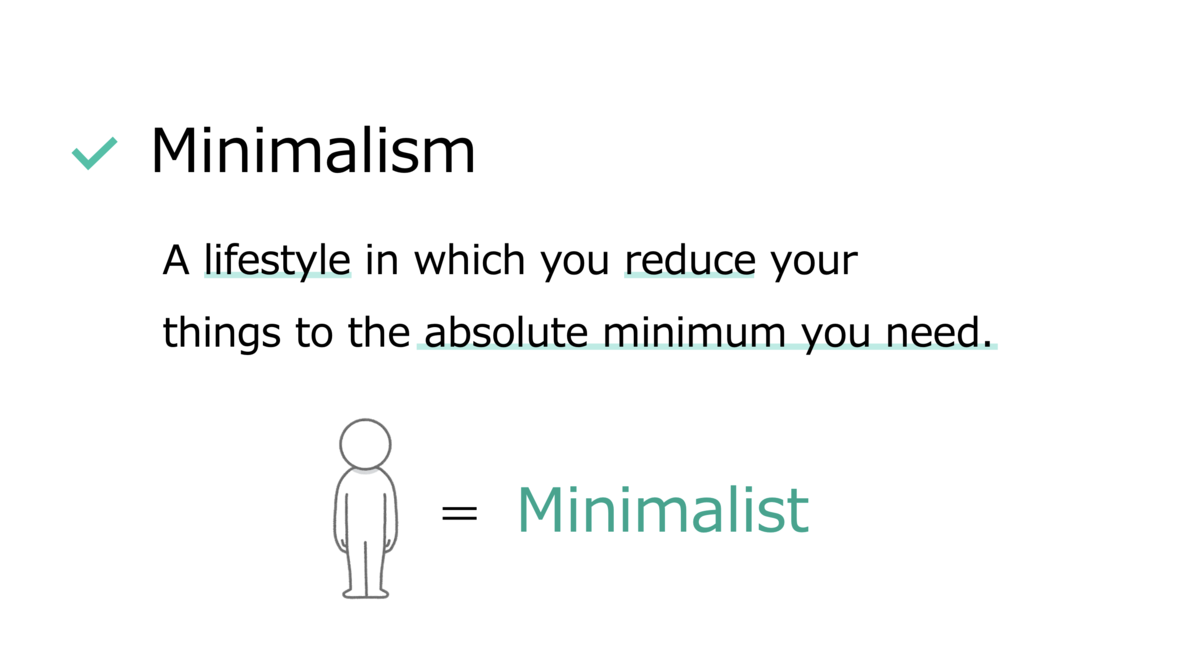 Minimalism is a lifestyle in which you reduce your possessions to the absolute minimum you need.
So, Minimalist is the person who is living under the policy of minimalism.
Currently, I'm living as a minimalist.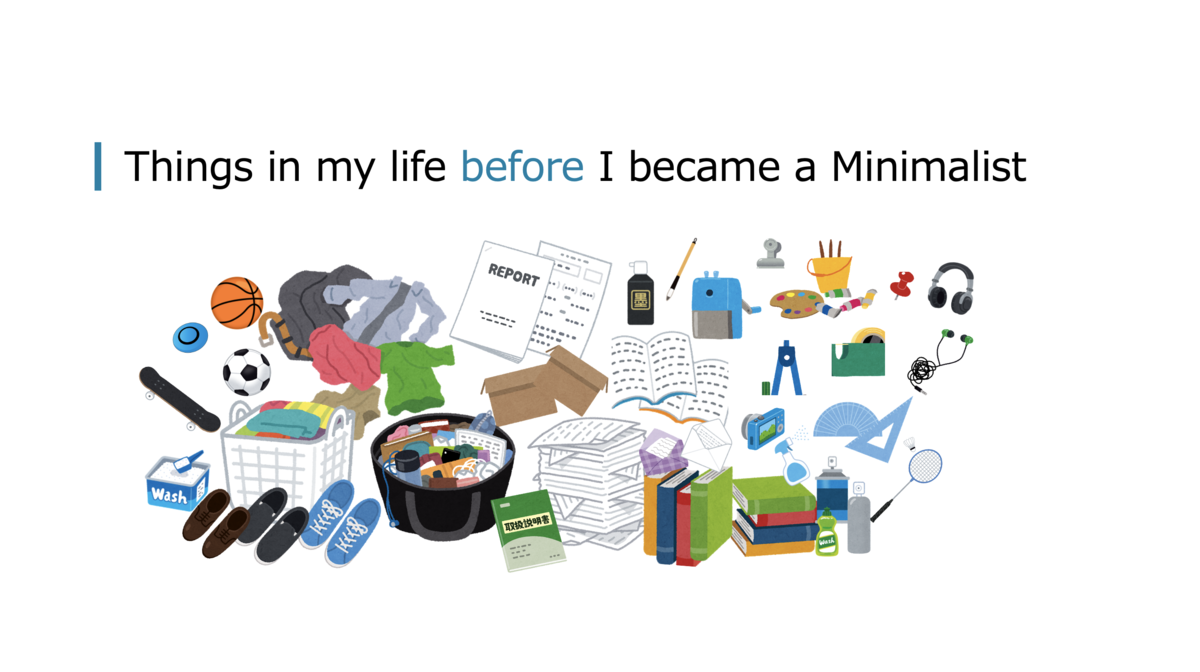 However, Days before I became a minimalist, I was a Maximalist.
I was good at collecting things but, I was not good at managing them.
I couldn't focus on the things that I have to do and always compared myself with others.
And also, I couldn't appreciate the things what I had.
Right now, I am thinking that those things sucked up my time and energy.
After I realize that, I started minimize my own things.           
At this main part, I'd like to talk about the benefits of being a minimalist.
These benefits are which I gained or realized through my own life.
At this time, I want to show you 4 big benefits.
Benefit 1 is more time.
Our time is limited. And 24hrs/day is the same for everyone.
However, time spent those things will be minimum.
That's why I can say that we could have more time.
Let's look at the example of these contents.
If you have many things inside the room, you should move them and clean and move them again and clean …. It's a hassle.
However, if the things will be minimum, all you have to do is just bring vacuum cleaner and just wipe on the floor.

Time to spend shopping will be minimum.
As I continue in my journey as a minimalist, I've noticed that my criteria for choosing things has became clearer, and as a result, I spend less time wondering whether or not to buy something. 
Once you understand what is necessary for you, you may not waste the time and money for unnecessary things.
And also, less time spend looking for missing items.
Why? Because the things are minimum.
I'm aware of every single one of my possessions, and since they're always stored in the same location, I spend zero minutes looking for misplaced things.
With fewer possessions, you will have fewer things to lose.

Benefit 2 is more freedom.
Minimalism is available for all of us.

Minimalist doesn't have to stick in the same place.
You can choose your favorite living place not only house style but also countries.

Benefit 3 is "can be healthier and safer".
Why can be healthier? let's start by looking at this part.

Minimalists room with necessary things are so tidy.
At the same time, it's a little bit so silent at daytime.
However, this will be the trigger for you to step to the outside.
Once you step to the outside, you can enjoy the seasons atmosphere, place atmosphere, fitness activities and so on.
These activities makes your mental health better.
And also, After you took a time to do those activities, you will automatically start caring about your physical health as well.
This will leads you to take a good meals and nutritions.

Now, let's see the safer part.

You know, Japan is a country where a lot of earthquakes are happening.
At the time of the Great East Japan Earthquake in 2011, things like a bookshelf or heavy things had killed a lot of people.
And also, TSUNAMI swallowed up family albums and sorts of important things for them.
The less you have, the less you're likely to have destroyed in a disaster, and the less you will have to do to prepare for a disaster.                               
Benefit 4 is "feeling" happy.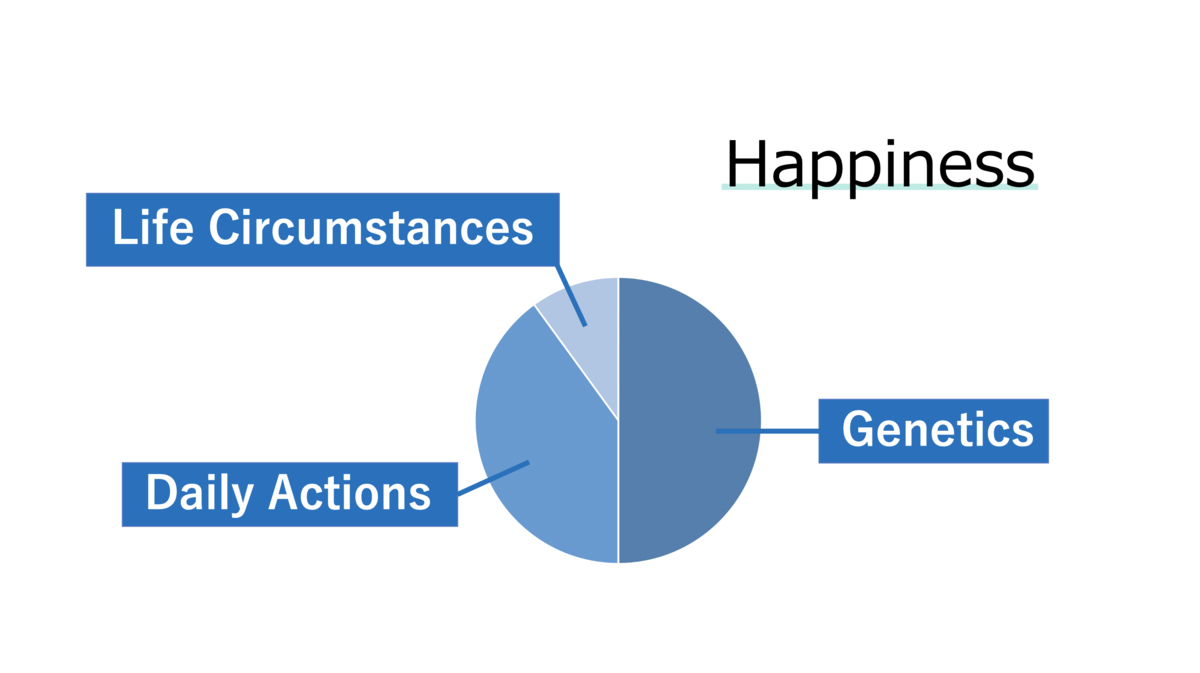 Today, there is a lot of research into happiness.
Psychologist Sonja Lyubomirsky says that 50 percent of our happiness is genetically determined, 10 percent by life circumstances, and the remaining 40 percent by our daily actions.
This is surprising, I'd guess that happiness  would be more like 90 percent life circumstances.
Isn't it strange to think that life circumstances only play a 10 percent role in the happiness that we experience?
Why?
It's because most of us soon accept our new life circumstances and adjust at a surprising speed.
Various studies have confirmed this phenomenon.

For example, before I became a minimalist, I believed that I will be happy as long as I can get something new or better.
However, happiness does not continue so long.
That's because every new things can make us happy for a moment, but we will soon get used to it.
It means that the new thing will became a normal part of our daily life.
We eventually start getting tired or bored what we have.
Then, we try to get something new or increase the number of the things.
This is an endless loop.
So, that's why life circumstances only play a 10 percent role in the happiness.  And also, we can't control genetics part. 
However, the 40 percent that we can change through our daily actions.
Life circumstance of minimalist makes it easy to feel happiness.

After I minimize my things, my room had become pretty airy.
In one day, I experienced strange new feeling.
I was filled with gratitude for all the things that I had.
I had a bed, clothes to wear, and even a bicycle.
I could sleep well, take a shower, and could have more time to do my favorite activities.
I realize that, living with necessary things makes us easy to notice, find, realize, and "feel" the happiness in our daily actions.
That's why our actions make up 40 percent of our happiness.

This is the famous quote which was written by one of the famous Japanese minimalist.
" Happiness depends on how you interpret it.
Happiness isn't something outside you; it's within you.
Happiness is always in your heart. "
I thought I can "be" happy before but, I realize that Happiness is something that can only be "felt".
This is one of the important lessons that I've learned through a minimalism.

Finally, I want to show you the summary and conclusion.
Benefits of being a minimalist is, you could have more time, more freedom, can be healthier and safer, and also, feeling happy.
In conclusion, I'd like to minimize these contents.

This is the minimal version of the message that I'd like to say in this blog post.
There is happiness in having less.
Thank you so very much.